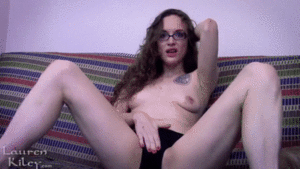 3:39 video
I come across a lot of new and interesting fetishes as a professional kinky girl. But you seem to have an especially weird relationship with my panties. Here I am, topless and writhing on the couch for you… but your focus is all for that small strip of soft black cotton between my legs…
You almost don't even care about the sweet wet hot pussy I'm rubbing through my panties…
Your obsession is with my panties, even the plain black cozy cotton granny panties. You want the panties I wear every day.
The more I tease myself, running my fingers over my pussy through my panties and eventually just diving beneath the panties to finger my tight hot pussy and letting my panties grow wetter and wetter…
These panties, wet and fragrant with my pussy juice, are your ultimate obsession. You're dying to touch, smell, and taste my panties. My dirty panties would make the perfect gag - suffocating your senses with my pussy.
But I would never let a loser like you jerk off with my wet panties. Your fetish for my panties will remain a fantasy!
*PANTY FETISH, PANTIES, TOPLESS, MASTURBATION TEASE, TEASE & DENIAL, FEMDOM BRAT*