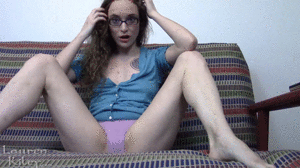 Oh, you poor fool.
I'm not going to threaten to tell your wife about your pathetic addiction to my kinky fetish videos. She already knows! She knows all your secrets and has been laughing at you behind your back!
Let's be honest. Men are just not smart enough to keep secrets very well.
I don't have to blackmail you, anyway. You already give me all your money.
I have a different plan! And it revolves around your abject humiliation! You're helpless by now to do anything but keep jerking off for me despite your upcoming abasement and misery!
*BLACKMAIL FANTASY, FINANCIAL DOMINATION, EMASCULATION, JERK OFF INSTRUCTION, CUM COUNTDOWN, FEMDOM, GLASSES FETISH, VERBAL HUMILIATION, MISANDRY, REJECTION, MOCKING*