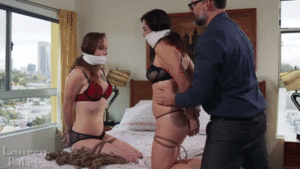 68 photos; 19:29 video
Lauren and Dixie are being prepared to be presented to The Mistress as new slaves. The man in charge of slave preparation starts with collaring them, then stuffing their mouths with panties before gagging them to stifle their questions and protests.
Then he begins binding them for the presentation, tying them in tight rough rope bondage against their creamy soft skin. The girls lean on each other for support as the callous man continues to treat them as any other object of merchandise - casually fondling them as he works - pulling down their bras to expose their tits before also tying their breasts in rope.
Assuming that the slaves will be used for two-girl shows, he proceeds to tie Lauren and Dixie to each other - starting by tying their tits together by connecting their chest harnesses. For the final touch to bring the whole presentation together, he ties a single crotch rope tight between them both!
Bound to each other with the rope rubbing against their pussies, Lauren and Dixie writhe and moan, only tightening the bonds that now hold them together, and tightening the pressure of the rope shared between their bodies rubbing against their pussies!
Featuring: Dixie Comet, Nate Liquor

*DAMSEL IN DISTRESS, ROPE BONDAGE, BONDAGE, CROTCH ROPE, GAGGING, GAG KISSES, FEMALE SUBMISSION, SUBMISSIVE WOMEN, SLAVE TRAINING, MALE DOMINATION, TOPLESS, GROPING, SMILING SIRENS, #GAMEOFSLAVES*