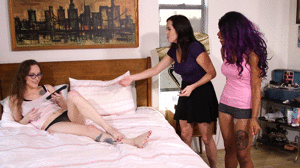 10:20 video
Dixie and Cupcake, Lauren Kiley's roommates, come into her bedroom only to find that she has been lying around doing nothing but playing with her remote control! They mock her for being lazy and dumb! Little do they know, Lauren has actually been working on a super secret engineering project to create the Ultimate Universal Remote!
With her roommates at her complete disposal, the first thing Lauren gets is revenge! She mutes them to make them shut the fuck up and moves their bodies into hilarious art parody sculptures!
To further the experiment, Lauren tests out the "fembot" mode and turns her roommates into horny lesbian sluts who can't keep their hands off each other! Dixie and Cupcake passionately make out and undress each other as Lauren watches, humiliates them, and contemplates the benefits of her new living situation!
Featuring: Dixie Comet, cupcake sinclair
*MAGIC CONTROL, FEMBOT, LESBIAN DOMINATION, FEMALE DOMINATION, STUCK, FREEZE, LIMP FETISH, MAKING OUT, BRA & PANTIES, SCI-FI*