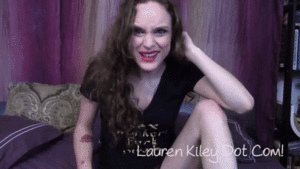 5:15 video
Lost footage from a a publicity interview promoting her upcoming debut on an underground BDSM Reality Contest...
Lauren's candid reaction when asked by an interviewer if she ever submits to men, especially in her personal life.
To summarize: of course not. Men are naturally inferior to women. Lauren needs to respect anyone she will submit to, and she has nothing but contempt for men. They are worthless and pathetic. This is not a dominance issue, as Lauren is a switch and frequently serves at the pleasure of powerful Mistresses with joyful enthusiasm. This is just fact.
It is easy to see why the interviewer was too much of a pussy to include this clip in his edit.
*FEMALE SUPREMACY, FEMALE DOMINANCE, FEMDOM, FEMDOM POV, CANDID, INTERVIEW, MISANDRY, #GAMEOFSLAVES*