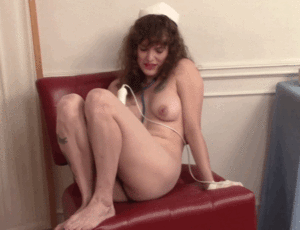 9:32 video
Shy Nurse Kiley Interviews for Job at a Sex Clinic!
Nurse Kiley has already been stripped completely naked in her job interview at the sex clinic! Embarrassed and humiliated at being so exposed, she is mortified even further when the doctor orders her to demonstrate the use of the "industry standard" wand vibrator for personal masturbation.
Dedicated to her job, and obviously turned on, even if she doesn't want to admit it, Lauren procedes to demonstrate the different power settings of the wand and rub the vibrator up and down her body, teasing herself until she's ready for direct application. To ensure proper technique, the clinic focuses closely on her pussy to watch her become wetter and closer to orgasm.
Coming hard, Nurse Kiley is still a little shy, but definitely excited to start her new job soon!
*made ORGASM, CO-ERCED ORGASM, made MASTURBATION, CO-ERCED MASTURBATION, VIBRATOR, FEMALE MASTURBATION, EMBARRASSED NAKED FEMALE, SEXY NURSE, NURSE FANTASY, JOB INTERVIEW, WOMEN FOLLOWING ORDERS, MEDICAL FETISH, UNIFORMS, NURSE PLAY, NURSE COSTUME, ENF, NUDITY, TOPLESS, HUMILIATION*
Voice Over Co-Star: Eric Holman
Production Team: Lorelei Mission - Bedroom Bondage, Jon Woods - American Damsels
See Part One: Nurse made To Strip - Sex Clinic Job Interview (Pt. 1)
See Full Production! Exclusively at TheDirtyGirlNextDoor.com!
Sex Clinic Job Interview: Nurse Stripped For Vibe Demonstration