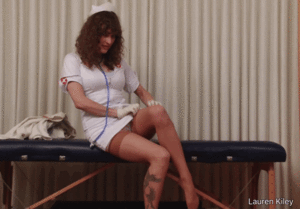 13:27 video
Shy Nurse Kiley Interviews for Job at a Sex Clinic!
Nurse Kiley has made it to the final round of the interview process at a prestigious health clinic specializing in sexual wellness - the kind of place so elite you have to know the right people to recieve treatment! She has remained coolly professional so far, but now the Head Doctor informs her that in order to make the patients more comfortable, she will have to strip off her uniform to interact fully nude with them - and she has to prove she can handle it right now!
Reluctantly, Nurse Kiley removes one piece of clothing after another... from a conservative lab coat... to her thigh high stockings... and even the uniform mini-dress that still made her feel uncomfortably exposed! With each piece of clothing she feels even more embarrassed and humiliated!
The Doctor in turn, becomes more inpatient, and harsher in his orders for her to strip in front of him, until she is completely bare!
But... was that a sparkle of mischievous desire in her eyes? Maybe Nurse Kiley will love this job after all...
*made STRIPPING, CO-ERCED STRIP, EMBARRASSED NAKED FEMALE, SEXY NURSE, NURSE FANTASY, JOB INTERVIEW, WOMEN FOLLOWING ORDERS, MEDICAL FETISH, UNIFORMS, NURSE PLAY, NURSE COSTUME, ENF, NUDITY, TOPLESS, STOCKINGS, HIGH HEELS, HUMILIATION*
Voice Over Co-Star: Eric Holman
Production Team: Lorelei Mission - Bedroom Bondage, Jon Woods - American Damsels
See Part Two: Nurse Demonstrates Wand Orgasm
See Full Production! Exclusively at TheDirtyGirlNextDoor.com!
Sex Clinic Job Interview: Nurse Stripped For Vibe Demonstration