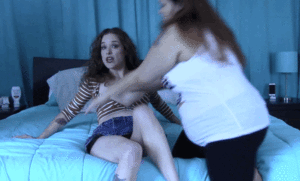 6:58 video
Lauren Kiley gets cocky and starts planning to steal a man from SSBBW Ivy Davenport! She thinks that her small natural tits and slender body are sure to lure any man away from someone so fat!
Little does she know that Ivy's friend and comrade Sydney Screams is in the house!
Sydney catches Lauren bragging about skinny bitches deserve all the male attention and how she's entitled to steal any man she wants from fat girls... and she knows that she needs backup for the punishment this bullshit deserves... so she calls Ivy in to teach Lauren a lesson! They decide to shut her man-stealing body-shaming stupid mouth by lying on top of her with all their weight!
Body sinking into the bed under what feels like the combined metric ton of both BBWs on top of her, Lauren learns her lesson in an intimately close way: BBWs are beautiful and powerful!
*CRUSHING, BBW, BBW CRUSHING, BBW DOMINATION, LESBIAN DOMINATION, BBW-SSBBW, BBW SITTING, BBW WITH THIN CHICKS, BODY SHAMING, FAT HUMILIATION, SKINNY HUMILIATION, BODY HUMILIATION, TOPLESS, HOM, HAND OVER MOUTH*
Featuring: Ivy Davenport, Sydney Screams