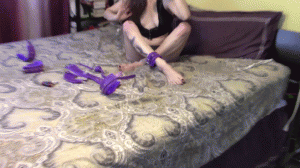 10:28 video
I want to give my boyfriend the perfect present. I've learned that he is really into kinky sex, and bondage and restraints in particular! So I'm going to put myself into bondage and wait on the bed for him to get home and find me helpless and ready for him. I put cuffs on my ankles, with a padlock to keep my slut legs together, cuffs on my wrists, a collar, ball gag, and blindfold.
As I restrain myself, I become more and more turned on. But, still nervous, I wait patiently like a good girl kneeling on the bed.
Until a man walks in. He clips my wrists to restraint points on each corner of the bed. Then he rips my top off to expose my perky tits and fondle them. Then he grabs a flogger and alternates between dragging it across my soft white skin and whipping my breasts! Then he leaves me to struggle on my own!
When he's gone, I manage to squirm out of my blindfold. Then I realize that I don't even know if that man was my boyfriend or not! Looking down I see the marks he left on my sexy body, and I decide that I like this kinky bondage stuff! I might have to find more occasions to tie myself up...
*SELF BONDAGE, SELF GAGGING, DAMSEL IN DISTRESS, BONDAGE, XXXX, TOPLESS*