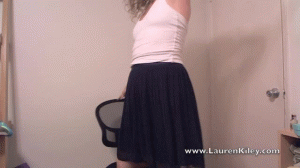 6:55 video
Throwback Thursday Special Update!
Oh hey, hubby. I didn't know you were waiting up for me after the office party. Don't mind me while I strip down to take a shower before getting ready for bed. You shouldn't have stayed up! These "work parties" always run late! You know I only work because I like meeting all the hot young interns... and I had a GREAT time at the office tonight! I finally made my dream of a M/M/F threesome come true and got fucked by TWO hot young studs over my desk! And I'm going to tell you all about it because you're a pathetic little excuse for a man whose wife needs to find hot cock to fuck elsewhere! Lord knows you're never allowed in my bed.
This is the most you've seen of your hot young wife in years, and I'm being a bitch and a tease telling you all the sexual things I will NEVER do with you! I describe and pantomime how my lovers bent me over and fucked me in my mouth AND my pussy at the same time! Ewwwww - are you getting hard?!? Gross!! You're even more of a loser than I thought!
*CUCKOLDING, CUCKOLD FANTASIES, DIRTY TALK, FANTASIES, OFFICE SEX, STRIP TEASE, HUMILIATION, VERBAL HUMILIATION, TOPLESS*