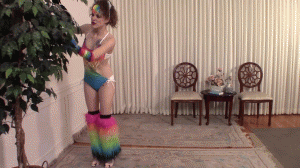 11:33 video
Introducing The Rainbow Tigress Super-Kitten! Defender of cuteness everywhere!
Unfortunately for her, she sneaks into the laid of the evil (and ugly!) Doctor Caesar Merengue - the Wild Gorilla! He captures her with the mortifyingly classic trick of using a laser-powered device to distract her until she curls up whimpering. As punishment she is tied to a post - has her mouth stuffed with a ball gag - legs spread with a spreader bar - and crotch rope going straight up her magic monokini!
Just when our heroine thinks the situation couldn't possibly get more distressing... the evil doctor pulls her top down to reveal her breasts! Bound, helpless, and utterly humiliated, all she can do is mew and struggle against the rope!
She's such a cute little kitty when she's topless and tied up!
*DAMSEL IN DISTRESS, ROPE BONDAGE, COSTUMES, COSPLAY, SMILING SIREN*